Seasonal Activity Days are an integral part of the "Field Flowers" Marathon and are organized to increasing of the interest for outdoor (fields) activity with QRP rigs, experiments with antennas and equipment as well as improving of skills of operating in a case of emergency. We firmly stand for careful handling of nature and presenting the most beautiful and interesting places of our planet on the HAM radio air.
2017 Seasonal Activity Days' schedule:
Spring, "Spring rills" — from 00:00 UTC March, 31 to 23:59 UTC April, 02.
Summer, "Unexplored roads" — from 00:00 UTC July, 21 to 23:59 UTC July, 23.
Autumn, "Mushroom glades" — from 00:00 UTC September, 15 to 23:59 UTC September, 17.
Winter, "Snow trails" — from 00:00 UTC December, 08 to 23:59 UTC December 10.
Contacts will credited with any HAM radio correspondents, on any bands, by any modes, but the Marathon participant's radio station must operate outdoors only with QRP (no more than 5 watts CW / DIGI and no more than 10 watts of peak power in Phone) or less power.
Duplicated QSO regardless different bands or modes are not counted. Besides that, duplicated contacts are not counted even if correspondent uses any additions to call sign. For example, if the call sign UR0ET is already credited earlier, any other QSO with DL/UR0ET or UR0ET/a, etc. are considered as duplication and do not counted into score.
QSO established during Activity Days are counted for the Marathon in accordance with the Rules of the Marathon.
Contacts, made in the framework of any activities of other amateur radio societies, may be applied for the Marathon, if conditions of these QSO correspond to requirements of the Marathon.
Radio stations are considered to be field, if they meet the criteria:
autonomous power supply is used, such as Battery Pack, solar panel, gasoline generator, etc.;
radio station is located at a distance no closer than 300 meters from the inhabited locality. Placing of radio station in parks and recreational areas, located in settlements, allowed if outside of capital buildings and if autonomous power supply is used.
Scoring group of participants
Portable (P) — participants operating with a fixed outdoor (field) position;
Mobile (M) — participants operating on move: bike, car, motorcycle, etc.;
Pedestrian Mobile (PM) — walking participants operating on go.
Participation in one or several groups is allowed.
Reports on participation in the form of log extract, indicating the claimed group and place (route) of activity, post address for mailing the Certificate of the Marathon Participant (if just involved into the Marathon), should be sent to the email address This email address is being protected from spambots. You need JavaScript enabled to view it. in a week at the end of the outdoor outing. Subject of your e-mail report should be indicated in form of "YOUR-CALLSIGN, Activity Days".
Photo/video reportages (or link for viewing/downloading), stories about participation in Seasonal Activity Days are highly welcomed.
All participants of Seasonal Activity Days,
regardless of number of QSO established,
who will send us a report,
will get corresponding seasonal electronic remembrance certificate of "Outdoor QRP Activity Group" by e-mail. Additionally those who participate in the Marathon for the first time, can get a "Certificate of the Marathon Participant" free by mail if have to report their postal address. Stickers for the "Certificate of the Marathon Participant" can be obtained in accordance with the terms.
It may to establish a prize/award/certificate in any category or own nomination in coordination with the "Outdoor QRP Activity Group".
---
Electronic certificate for participating in the Spring Activity Days can be viewed/demonstrated not only and not so much at the display. Its big size 2480x2480 px allows to print it with high quality up to 21x 21 cm size, BTW same as our Certificate of Marathon Participant.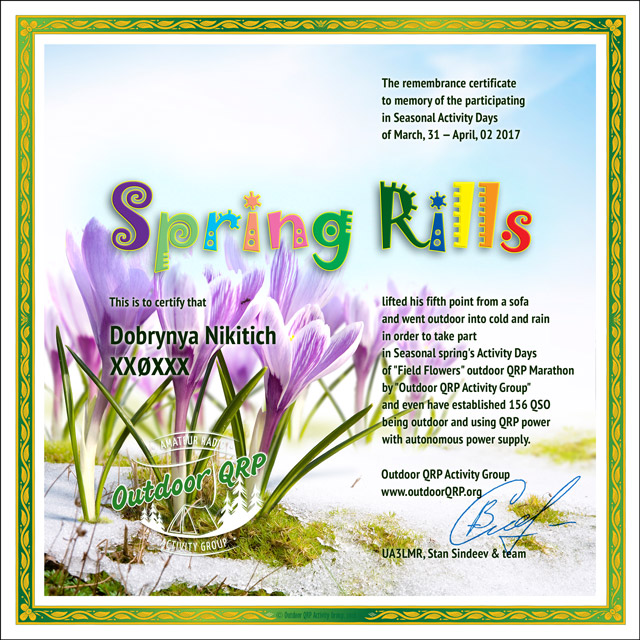 Results of the Spring Activity Days are published in the Russian Section.
---