Continuing the message from December 07…
On 29.XII.2018 new RFF-references were added to the Directories on the WWFF and our website for remaining 8 Entities of the Russian Federation (RF Entity), having each only 1 valid RFF-reference  earlier::
Novosibirskaya oblast  — 23 references;
Penzenskaya oblast  — 15 references;
Tambovskaya oblast  — 4 references;
Tomskaya oblast — 15 references;
Tulskaya oblast — 9 references;
Khakassia Republic — 7 references;
Chechnya Republic — 7 references;
Orlovskaya oblast — sorry, no new references were added.
***
Orlovskaya oblast (R3E)
unfortunately, remains the most difficult RF Entity for us. Despite the fact that Information Analytic System "SPNAs of the Russian Federation" (IAS "SPNAs of RF") mentions 175 SPNAs of all statuses (acting, liquidated, lost, reorganized or prospective ones of different significance), including 10 acting Natural Reserves, 2 Nature Parks and 15 Nature Monuments, and the World Database on Protected Areas (WDPA) has 131 entries for Orlovskaya oblast, it was possible to find only 15 matches for Nature Monuments. WDPA knows nothing about either Nature Parks or Nature Reserves.
And we can not use even these 15 Nature Monuments due to the fact that none of them has a map of the territory's boundaries. There are no such maps either for natural reserves or for nature parks. The data at the disposal of the IAS "SPNAs of RF" are not recent, and the environmental web-based resource of the Orlovskaya oblast Administration able to inform for little bit more than nothing.
Perhaps further, more thorough exploring will be more effective, but so far still the only RFF-reference of the Orlovskaya oblast remains
— RFF-0133 "Orlovskoye Polesye" National Park.
Novosibirskaya oblast (R9O)
in contrast to the previous one, is a region with a well-developed SPNA system. There are detailed info for each area, starting from the lists of protected objects, description of natural conditions, and ending with detailed descriptions and coordinates of the territory boudaries.
The IAS "SPNAs of RF" knows 148 SPNAs (85 acting), and WDPA — only 128. At the first stage, we have added 23 of 26 existing Natural Reserves. We will deal later with the remaining reserves, nature monuments and Vasyugansky Nature Reserve  established a year ago.
Penzenskaya oblast (R4F)
is not the best example of the Administration's environmental work, but also is not the worst either — it has 1 nature reserve, 1 arboretum, 6 natural reserves and 80 nature monuments. In addition, 136 objects of "undefined" status — squares, boulevards, etc. SPNAs. The information is extremely scarce in most cases, and many territories have "Passports" of some ancient year with boudaries drawn by hand on a blank sheet.
A total of 285 SPNAs of various status are listed in the IAS "SPNAs of RF" and 87 SPNAs are known in the WDPA, where 17 natural reserves are mentioned, but in fact 11 of them are "lost" or "liquidated" long ago.
Situation is not the best with maps and/or boundary descriptions. It was successful to add only 2 and 13 SPNAs, respectively, of 6 natural reserves and 24 nature monuments, accessible by reason of WDPA and suitable for our purposes.
Tambovskaya oblast (R3R)
has 150 protected areas — acting 4 natural reserves, 1 nature reserve, 6 resorts, 2 other protected areas and 110 nature monuments. WDPA has only 99 entries. I managed to add only 4 references and stopped to search for more matches — there are too many trash entries in the WDPA, no suitable information.
Tomskaya oblast (R9H)
like Novosibirskaya, has a significant system of protected areas. The IAS "SPNAs of RF" knows 310 SPNAs, including 20 acting natural reserves, a natural complex and 2 protected landscapes, an arboretum, more than a hundred natural monuments and many, many tiny protected areas of local significance. WDPA has records of a total of 17 SPNAs — 16 natural reserves and 1 recreation area.
Most of the 15 natural reserves that have got their RFF-reference are rather difficult to reach due to the lack of roads and a considerable distance from settlements — they are not for light outdoor trips. We will deal with more accessible, less difficult SPNAs later.
Tulskaya oblast (R3P)
The IAS "SPNAs of RF" counts 69 SPNAs in the Tulskaya oblast, WDPA contains 59 entries — 6 natural reserves (5 of them do not exist for a long time), 4 museums (with no relation to nature protection) and 49 nature monuments, some of which are really still acting.
We were able to assign references for 9 of them — there are maps of the territory boundaries, rather informative articles, etc.
Khakassia Republic (R0W)
has 129 SPNAs, 36 of which are acting, including 1 nature reserve, 1 nature park, 6 natural reserves and 11 nature monuments.
The WDPA has 29 entries.
We managed to add 3 natural reserves and 4 nature monuments.
Chechnya Republic (R6P)
gets references for 7 of 9 active natural reserves. We will deal with the existing nature monuments known to the WDPA, a bit later.
In total, there are 42 nature monuments in the Republic, information on the protected areas is presented quite well.

***
And it was not planned at all, like a New Year bonus, 32 new RFF-references were added in the Bryanskaya oblast — 6 natural reserves and 27 nature monuments in 20 districts. Thus, there are currently 36 valid RFF-references here. More references has the only Moskovskaya oblast — 37.

It should be noted, the Department of Natural Resources and Ecology of the oblast has an excellent, informative website, even containing the map of protected areas. Unfortunately, the territory boundaries are indicated only for a small number of protected areas. I would like to hope that this map is in the process of filling. Also here is available the Red Book of the oblast, one of the editors of which is Elena Sitnikova, an enthusiastic and dedicated specialist, good at what she does, a real scientist. I was lucky to meet her in the already far 2012, during the R3ARS/3 expedition (R3YC, RA3AKF, UA3DUV, RN3ANT) to RFF-017 "Bryanskiy Les", which would have been simply impossible without Elena's substantial or even decisive assistance.

Next to Elena's house is the house of naturalist photographer Nikolay Shpilenok, brother of the famous nature photographer Igor Shpilenok, the founder of the "Bryansky Les" Nature Reserve. In addition to the amazing, rarest photos, Igor Shpilenok is also famous for the unique film "The Bears of Kamchatka. Beginning of life".
Wisents live in "Bryansky Forest" and also here found their refuge very rare, strange, wonderful creatures with the funny name "desman", proboscis and long scaly, almost fish tail. This relict animal, the same age as mammoths and saber-toothed tigers, lives only in a few limited places only on territory of the former USSR, its number, despite all the efforts of specialists, is still deceasing.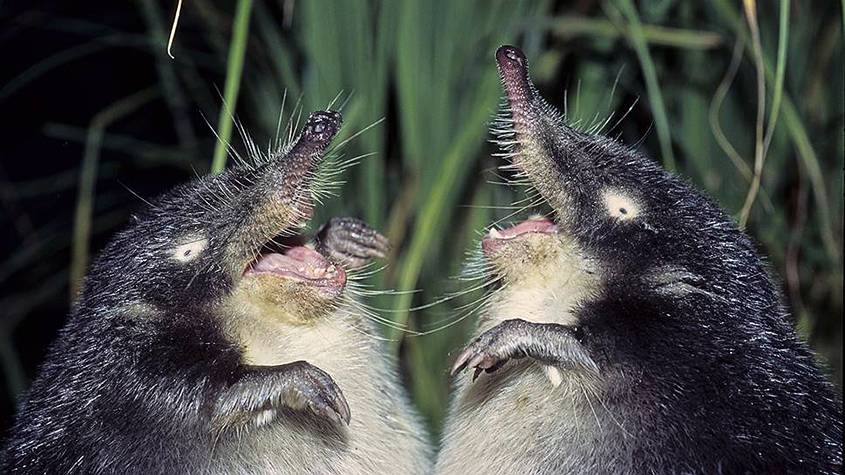 Note, the author of this wonderful photo is Nickolay Shpilenok.

Another good story about a desman with a lot of pictures (in Russian): Удивительный мир природы — Выхухоль русская
As a result of 2018 concerning new RFF-references:
this time we added another 112 references of 8 RF Entities. We are left with the only RF Entity having 1 RFF-reference - Orlovskaya oblast, 14 subjects with two RFF-references, 14 with three and 10 with four RFF-references. We will deal with them already in the New, 2019 Year. In the outgoing 2018, we added 230 new RFF-references to the RFF Directory.
Stay tuned for further updates in our RFF Directory.