Details

What's new

RFF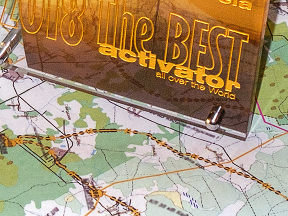 The results of the radio amateurs activity under the RFF (Russian Flora and Fauna) program in 2018 have been summed up.
27 individual operators went outdoors 81 times during the year in order to activate 45 RFF-references, and conducted a total of 21'144 QSOs with 10'750 correspondents.
Also 3 teams conducted 23'229 QSO from three RFF-references:
RI0B from RFF-0015 — 21'324 QSO;
RK9LWZ from RFF-0372 — 1'564 QSO;
RY3Y from RFF-0262 — 341 QSO.
Thus, 27 individual operators and 3 teams have activated…
Details
Continuing the message from December 07…
On 29.XII.2018 new RFF-references were added to the Directories on the WWFF and our website for remaining 8 Entities of the Russian Federation (RF Entity), having each only 1 valid RFF-reference  earlier::
Novosibirskaya oblast  — 23 references;
Penzenskaya oblast  — 15 references;
Tambovskaya oblast  — 4 references;
Tomskaya oblast — 15 references;
Tulskaya oblast — 9 references;
Khakassia Republic — 7 references;
Chechnya Republic — 7 references;
Orlovskaya oblast — sorry, no new references were added.
***
Details
New RFF references are added to our RFF Directory:
St. Petersburg City — 4 references;
Stavropolskiy Krai — 19 references;
Yevreyskaya autonomous oblast — 8 references;
Ivanovskaya oblast — 12 references;
Kaliningradskaya oblast — 5 references;
Kirovskaya oblast — 3 references;
Kurganskaya oblast — 15 references;
Kurskaya oblast — 4 references.
The current task-minimum for the growing of the RFF Directory is to have at least 5 valid RFF references in each of 85 Entities of the Russian Federation (RF Entity). Those, who considered the Rules of the "Sanctuary Russia" award might have noticed — there are catastrophically few, 3 or less, valid RFF references in more than half of the RF Entities, and two RF Entities have even none RFF reference.
Details

Now you can download the logo of the "Russian flora and Fauna" national program, which is part of the International award program WWFF.
The RAR-archive, which can be downloaded at http://www.outdoorqrp.org/download-logo, contains two vector files in Adobe Illustrator format — coloured one in CMYK color model and B/W in grayscale, as well as two bitmap images of 200 x 200 pix. for preview.
Freely use it for your QSL cards, notepads, flags, t-shirts... anything. If you encounter any difficulties with downloading or using the Logo, please let us know in any convenient way, for example, immediately in the comments to this note.